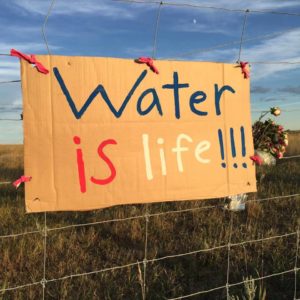 Melbourne, FL, 3/20/17 – The Brevard County Democratic Executive Committee (DEC) has unanimously passed a resolution opposing construction of the Sabal Trail pipeline, a five hundred and sixteen mile, three-foot-wide pipeline through twelve Florida counties that is anticipated to carry up to one billion cubic feet of natural gas per day. Six county DECs have now passed a resolution in opposition to the project, including Orange, Osceola, Brevard, Collier, Santa Rosa, and Monroe.  The resolution asks Brevard's local government officials to join them in opposing the Sabal Trail Pipeline by enacting similar resolutions, and by refusing to do business with or take donations from those companies and individuals who finance and/or stand to profit from the pipeline.

The proposed path of the Sabal Trail pipeline runs near schools and through residential and conservation areas, as well as through environmentally sensitive areas including the Suwannee River, the Green Swamp and the Floridan Aquifer, which provides drinking water to millions of Floridians. Land has been seized from Floridians by eminent domain to make way for construction. Originally, the Environmental Protection Agency (EPA) expressed significant concerns about the pipeline to the Federal Energy Regulatory Committee (FERC). The EPA then made an about-face on their decision seven weeks later.  
Brevard DEC Chair Stacey Patel said, "Florida's Democrats will not be silent about projects like Sabal Trail pipeline that could impact our state's precious water supply. As the brave protectors at Standing Rock taught us all, water is life. We support investing in alternative energy sources for the sunshine state to avoid perpetuating our sad legacy of dependence on fossil fuels. We believe taking a strong stand on environmental issues is critical for any candidate who aims to earn the support of voters in Brevard and across Florida."
According to Florida Power and Light (FPL)'s own 10-year site plan, published in April 2016, "FPL does not project a significant long-term additional resource need until the years 2024 and 2025." This raises the question of whether Sabal Trail is being constructed for immediate profit from export of natural gas or to meet the energy needs of Floridians.
Liquified natural gas (LNG) export facilities are currently planned at sites along Florida's coastline, including Titusville, and experimental LNG transport by rail is planned across Florida, including through Brevard County. The resolution calls on local elected officials to investigate the risks and benefits of these projects, and to respond to public inquiries about the safety and environmental impact of the liquified natural gas (LNG) export facility planned for Titusville, and about planned rail transport of LNG through Brevard County. Martin County Fire Department to our south has reported that a possible blast radius involving rail transport of LNG could impact 1,200 residents and exceed local response capabilities.
The full resolution may be found at brevarddems.org/resolutions/sabaltrail. For more information about the Brevard County Democratic Executive Committee, go to BrevardDems.org.