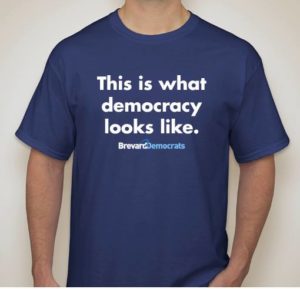 Ready to get your BrevardDems gear? After selecting your gear here, enter the amount due and make your donation below.
Receive the following for your contribution of:
$20: BrevardDems T-Shirt
$5: BrevardDems Bumper Sticker
$20: Personalized BrevardDems Nametag*
$20: 200 Personalized BrevardDems Business Cards*
$60: Full BrevardDems Membership Kit – includes all items above*
Remember to adjust your total when ordering multiple quantities of any single item.
To keep costs as low as possible, manufacturing will occur once sufficient quantity thresholds are met. We'll let you know when your gear is ready for pickup.
*Only individuals who appear on our directory at brevarddems.org/members are eligible to receive nametags, business cards, and membership kits.