"It was a moment I will never forget.  Coming up from the metro, and seeing these pink hats, thousands of them, and everyone saying, "How's it going?"
It was the National Women's March, the day following the Inauguration, and "…you can imagine, everyone's like, 'what's today going to be like? And to see all these badass women, who decided they didn't give a f***, and we just calmed each other down."
Karen Caudillo, speaking without notes, entranced the packed County Commission auditorium on Wednesday night, near the end of a long and emotional meeting of the Brevard Democratic Executive Committee.
As she spoke I remembered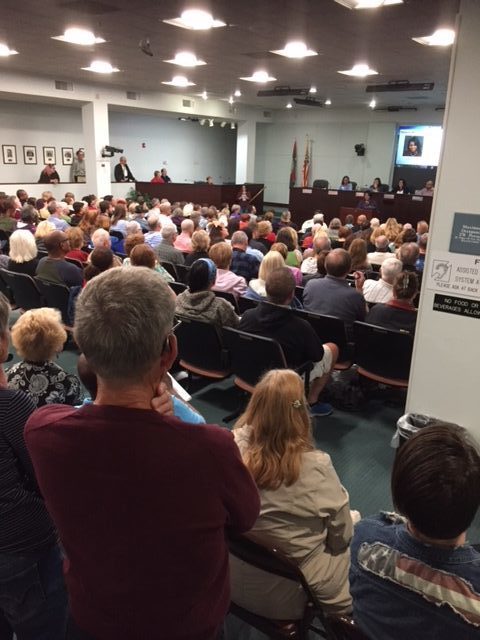 why I was in the room.  Why so many of us, a record number, were gathered. Karen has a style that links arms with you and sweeps you along effortlessly, rising joyous and alive, and then plunging, sobbing, into the nightmare reality that is the undocumented immigrant's life under Trump.
"My mom was from Mexico City.  My dad didn't get to high school. When he writes, he writes in all capital letters. He never learned about case-sensitive. My dad was really poor. Tin house. No insulation. Dirt floor. No fridge." Karen tells her story simply. She is an open book who makes you want to stand close, giddy with the fresh shock of her honesty.
"My mom was more privileged. She had a fridge! Because she is fairer-skinned, her parents always expected her to marry someone of her skin tone.  Or lighter. My dad's darker."  She laughs and so do we.  But her dad was not welcome at her mother's parents.
Karen shared the story of how her dad showered to go see her mom one evening and lost one of the only two shoes he had.  "Okay, they're not going to let me in my girlfriend's house after a certain hour. I have to go. With one shoe."
Years later, that same grit propelled him across the border, to seek opportunities in Tampa's booming construction trade, for the woman before us, a mere toddler when he left.
"I say these stories because it shows who they tried to raise me as, and that's what helps me stay grounded. When they married, they realized some things. They were never going to send me to a nicer school. Ever. In Mexico, you pay for school. The uniforms, the books. Scholarships are very limited.
"My parents made the decision to come to the United States. Construction was booming in Florida, and I came at the age of four. This is my home. This is the only place I've ever known.  And I've never been able to go to my home country.  In DACA, we can apply for advanced parole.  Don't get me started."
Karen lives the life of a college junior, negotiating syllabi and exam schedules and writing papers, running her own business doing organic cleaning. And oh yes—fighting as an activist.
"When Trump rescinded DACA, I was in DC, and doing a five-day fast, on Capital Hill.  During that fast, I realized that thanks to my mom I'd never gone to bed hungry.  During that fast, I learned to be hungry for justice."
Karen realized she was part of a chain, of those who sacrificed to create chances for her, and how she now has her turn.
"I was so privileged to have gotten DACA my junior in high school, and to receive one of the first one hundred full-ride scholarships for DACA recipients.  I say these things for those who didn't qualify. That's why I fight. I fight for them."
Karen finished her short talk to teary, thunderous applause. But she had one more thing to add, since so much of the night had included speeches of candidates and talks of elections.
"Oh, and don't tell anyone. Yet.  I am running for student-body president of UCF.  I just put my credit card down for four thousand dollars' worth of merchandise.
And I am going to win."
If you would like to help Karen win, please consider supporting her race by clicking here.