The 2017 Brevard County municipal elections are in the bag, and Democrats fared surprisingly well. We supported three men and three women in local elections, and three of them were successful.  We now want to visit with several of the men and women behinds the scenes in the Democratic effort to elect candidates who share our values.
Eli Logan took over as head of the Campaign and Candidate Committee in August, just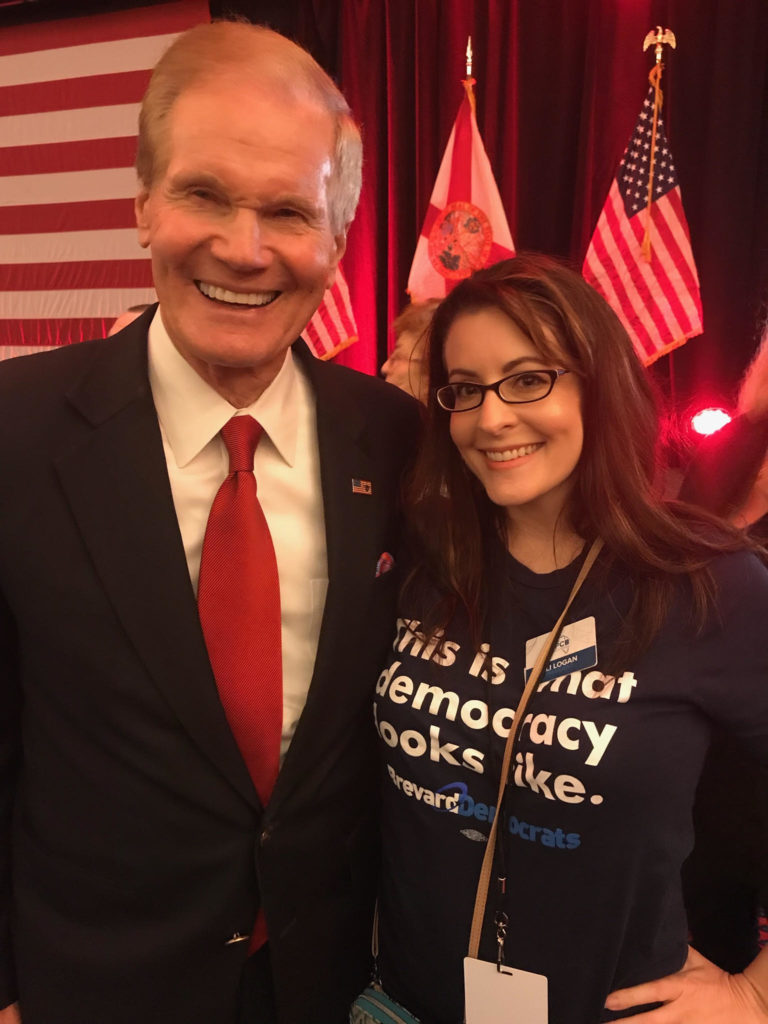 in time to hop on a speeding campaign train. "I've been drawn to campaigns for quite a while. It's almost like a calling. I've had very little experience in campaigning, so it has been a super steep learning curve."
But after last Tuesday's successes, Eli is ready for more. "I value the experience that the 2017 election cycle gave me and I'm super excited to use this knowledge to launch us into 2018!"
Al has been around politics all his life. "I come from a Massachusetts Irish family where politics was a dinner table occupation, though we never got into fistfights. I identified as a Democrat back then."
For several reasons, including helping elect a candidate who turned out to be a terrible public servant, Al soured on politics.  "I watched the Democratic Party drift away from the policies of Roosevelt and into something called triangulation, which was simply taking up and accepting Republican ideas: strengthening corporations while ignoring the common person."
Al says, "After moving to Brevard, I started to follow Bernie Sanders. Here after so many years was a politician I could believe in. He was special. I wrote a song about him, I contributed money and I followed his local Facebook page. Well, as Hillary became the nominee, the Bernie Sanders site in Brevard became the Democratic Party site I remained aboard. That is when I saw and became amazed at how enthusiastic and active the Brevard Democrats were. Their enthusiasm continued after Hillary's defeat and mine did too.  I could only hope that that enthusiasm spreads throughout the nation."
Brevard County voting precincts are spread over eight districts.  Pam Castellana guides the efforts of the District Leads. Of that experience, she says, "I truly enjoy working with these committed people.  It gets frustrating for everyone with the distance and the sometimes-conflicting directions.  But it's all growing pains. These ten individuals are so unique–and represent such a wide swath of Democrats.   But they are all equally committed to making Brevard County a better place to live."
In his role as a District Organizer for the 2017 municipals, Pete Colombo says, "At times I found it challenging to find ways to motivate some of my fellow PCW/M [precinct committee chairwomen and chairmen] to step out of their comfort zones and face the electorate. Thankfully, I had an excellent partner in Rachel Russell and several District 5 members (and a couple from other districts too) took on leadership roles. I never felt alone in battle for even a moment."
When we asked Pete about the time it took, he said, "In the month leading up to the election, I'd say that I was putting in 12-15 hours per week. Some of that was canvassing and making calls. The rest was working with others to develop best practices. I am thinking that I'll need to commit to more time for 2018. It's gonna be a huge deal for Brevard. We've got to leave it all on the field." 
Eli has some amazing impressions from her short time with the Brevard Dems in her new role.  "Honestly, I am just so impressed by the energy our team put forth. Our Dems stepped out of their comfort zones and our field game was incredible!! We operated like we've been working together for years."
Eli has learned a lot about her own strengths over the last several months. "I've been multitasking to the max since my Speak Out days and I'm always amazed at how much I can get done in so little time."
Midterm elections are notoriously poor in turnout.  Brevard County on Tuesday reported just under 22 percent voter turnout, which is actually a bit higher than normal for off-year. One of the candidates backed by Democrats won his seat with just three votes over his opponent.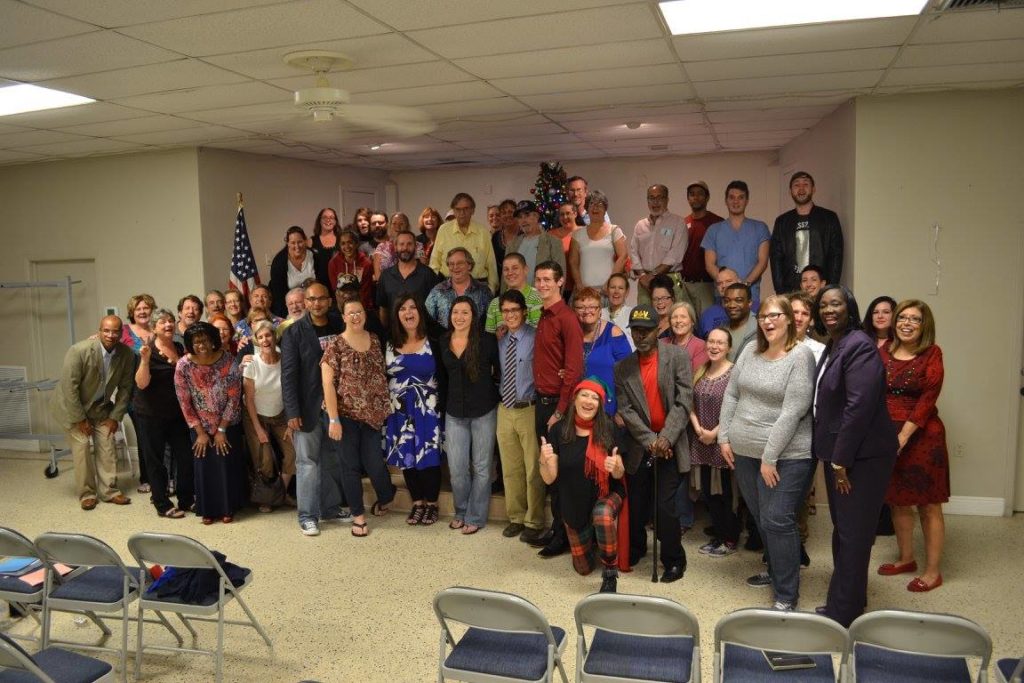 Pete has a smile that is as wide as Kansas. "Well, leaving aside the time that we were followed by a guy in a black Jeep while canvassing, the moments that stand out were when voters expressed sincere gratitude for the simple fact that we were out there working the election. Some had never had a Democratic Party member knock on their door before. I think we represented a little ray of hope for them. A sign of what's to come."
Eli gives a special shout out to one group, for its work on Tuesday. "Kudos to the non-active members of the Dem party who actually voted in this election! Thank you for being engaged just enough to participate in that way. I think nationwide we look for ways to increase voter turnout."
Eli understands well that there is much more than just voting. "Engagement and activism are a whole other piece of the pie! I think once the Dems in Brevard see what we are doing, more will be empowered to come forward to do the hard work."
Al is encouraged by what he sees.  "I am an elderly white male and I recognize the undue power my group has exercised," he adds. "And I am especially energized to see so many women and minorities not only working for candidates but running and winning. I see new days ahead."
What Pam remembers most vividly about these recent municipal elections is that the GOTV effort and the knockathons for that drive "…were energizing.  As frustrated as we were by the timing of the state convention, it seemed to fuel our volunteers.  They were phone banking, knocking on doors, talking to people.  NOTHING is more effective than a face to face contact.
[Editor's Note: GOTV – Get Out the Vote–the final stage of the campaign where the focus is contacting every single Democrat and No-Party Affiliate who has not voted yet.]
Pam recalls "…speaking with a couple in Rockledge early in the campaign.  They weren't sure about Sammie [Martin Brown], or Democrats in general.  They had a chip on their shoulder to beat the band.  But they invited me in and talked about their struggles adopting their granddaughter and how caught they were in the system."
What surprised Pam most was, "…how little sleep I need!!  But seriously–I learned I still have a lot to learn.  I became just as defensive and short tempered as anyone else.  Didn't like that.  I also learned that a good ground game will get you noticed.  I was reminded of my competitive nature, and my heart's desire to be a servant leader."
When Pete has a chance to answer the question we neglected to ask, he says, "Seriously, I wish you'd have asked whether this experience has been valuable to me on a personal level. Because it really has. Sure, for all those reasons that you'd expect……serving voters and making a difference in our community.
"But perhaps more impactful is the knowledge that there are so many hard working, incredible people in the fight with me. The Brevard DEC is a warm and welcoming group. Join us and you won't want for friendship and support.
"But….don't let that fool you. It is also fiercely competitive and dedicated to winning. You'll be challenged and lifted up toward success as we turn Brevard blue."
Pam has heard the critique that people need to do more than vote, but says, "Honestly I don't disagree with that assessment.  Would I like for people to become more active and involved with their government?  Sure.  But I am willing to meet them where they are-and work to entice them to want more.  We tend to talk in political terms "points", "turf", etc.
"And most people are intimidated by that when they know nothing about it.  We talk about people and policy as if everyone must know what's going on.  And if they don't they feel stupid.  We need to work harder to meet people with THEIR needs, and make them feel welcome and valuable if we want them to play in our sandbox."